simon borg-olivier teachers intensive
A week with our favouraite yoga teacher in the world, Yoga Synergy founder Simon Borg-Olivier. We are so excited to have him visit Lanka Yoga for this exclusive week in November. The work is all worth it to have him here with us. This intensive is designed for students who have completed a Yoga Synergy YTT either with Simon Borg-Olivier or Stefan Camilleri. If you don't fall into those categories please let us know and we will see if it is the right fit for you.
11th – 18th November, 2023
Practice Yoga Synergy with Simon Borg-Olivier for a week
Network and learn from like-minded teachers
Experience the surroundings of Lanka Yoga
Enjoy three delicious and nutritious vegan meals daily
Stay for 7 nights all-inclusive
Engage in 7 full days of yoga, including lectures and workshops
Enough downtime for relaxation and exploration
Receive a YECP continued education certificate for 50+ hours
Gain valuable knowledge and experience for your yoga journey
For more information, click the button below to download our info pack.
want to learn more?
to download info pack or make an inquiry, please fill in the form below
This exclusive seven-night intensive is led by renowned yoga teacher Simon Borg-Olivier. It is designed specifically for graduates of the Yoga Synergy YTT, this event offers a unique opportunity to deepen your understanding of yoga. With up to 8 hours a day of instruction from Simon, along with top-notch accommodations and delicious vegan meals, this intensive promises to be an enriching and rejuvenating experience. Join us at Lanka Yoga for this incredible opportunity to connect with Simon and take your yoga practice to new heights.
about simon
Simon Borg-Olivier, co-founder of Yoga Synergy, has a rich and diverse background in yoga. Starting from a young age with his father's teachings on breath retentions and a family friend's introduction to Uddiyana Bandha, Simon's connection to yoga deepened. He further explored tantric yoga with a Tibetan lama and underwent training with renowned masters such as B.K.S Iyengar and T.K.V Desikachar. Simon also studied physiotherapy and developed the Applied Anatomy & Physiology of Yoga Course, teaching it and authoring a comprehensive text on the subject. With over 40 years of experience, Simon continues to inspire and guide students worldwide through his teachings and expertise in yoga. Find more details about Simon in our info pack.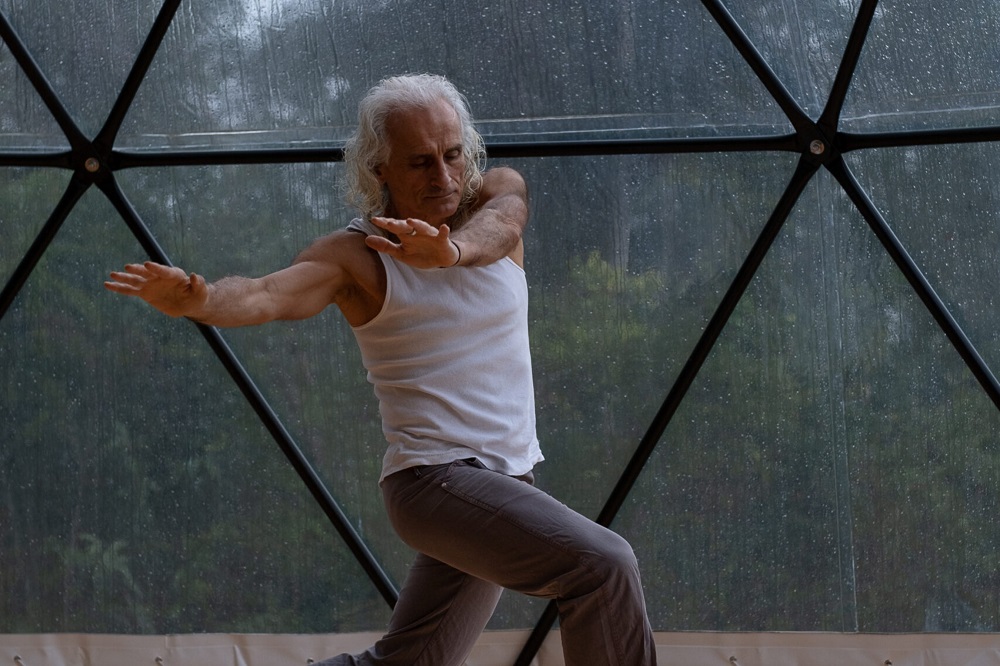 about what we will be covering
This intensive offers a blend of meditative practices, incorporating elements of qigong, yoga, dance, martial arts, and exercise-based physiotherapy. The morning sessions span are 3 hours and include breathing, chanting, meditation, joint movements, spinal movements, and fluid dynamic meditative practices. A conversational lecture follows, providing insights into the purpose behind the practices and helping prepare participants to teach. The afternoon sessions focus on using the energetic aspects of the morning practice to develop yoga postures, movement, and breathing exercises. These sessions integrate the Yoga Synergy system with exercise-based physiotherapy principles, cultivating strength, flexibility, and fitness while maintaining a meditative state. Find more details about the training in our info pack.
about the food
The all-vegan food is prepared by our amazing kitchen team. Much of the spices and veggies come from Lanka Yoga's garden, we serve a delicious chef-designed vegan menu that utilizes as many local and home-grown ingredients as possible. The food is refreshingly varied, with unique dishes served every day.
At Lanka Yoga, we understand the importance of delicious and nutritious food that supports your mind and body, while also being sustainable for the planet. Find more details about us in our info pack.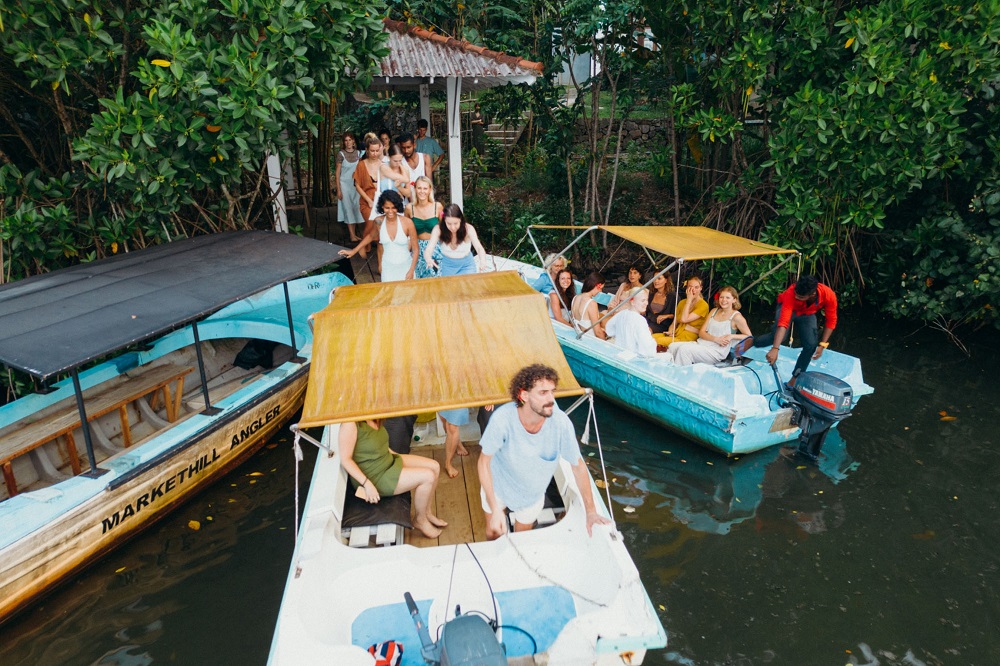 during your time off
There are many places to go when using Lanka Yoga as a base. There are beaches, restaurants, cafes, and more in the local area. The Lanka Yoga team organises optional activities during your breaks. You're more than welcome to spend your free time exploring on your own or just enjoying the venue. Find more details about the activities in our info pack.
three or four-person shared
Choose between spacious upstairs rooms or a tranquil garden room at Lanka Yoga, both offering breathtaking lake views. Rooms are shared with 2-3 other students and feature large bathrooms with separate toilets, two showers, and two sinks.
The accommodations are designed for cross ventilation, with AC units available. Upstairs rooms have balconies overlooking the lake, while the garden room has access to a private garden with a vegetable garden and jetty. The lush grass lawn is perfect for yoga and relaxation.
twin share
Twin share rooms are available both upstairs in the main villa and downstairs in the guest block, offering peaceful surroundings and stunning views of Koggala Lake. The upstairs rooms are designed for cross ventilation, ensuring a cool and comfortable environment.
The downstairs twin room utilises natural cooling as it is situated underground, benefiting from the insulation provided by the soil and grass above. These spacious rooms feature two single king beds, providing ample space for each occupant, and large bathrooms.
Private
Enjoy low views of Koggala Lake in our private option rooms, which feature a comfortable king bed and essential amenities.
Our sustainable approach means these ground-level rooms have a green roof; providing natural cooling throughout the year with the help of ceiling fans, eliminating the need for air conditioning. Relax on the natural balcony while soaking in the stunning views. These secluded and eco-friendly rooms are perfect for those seeking privacy and tranquility.
*€300 EUR non-refundable deposit is required to reserve your room. *All prices are per person in EUR, conversion fees not included. *Payment in full required 4 weeks prior to the intensive.
How much yoga will there be on this intensive?
Quite a lot! Simon will be teaching two yoga workshops/classes a day that are up to three hours long. These classes are more than just practice, they involve experimentation, workshopping. Even with this much yoga, there is still time for leisure, adventure or reading your favorite book.
Can I come alone?
Of course! You can come to this retreat as a couple, a group, or by yourself. We have three room options, you can stay by yourself, or share with one, or three others.
How far is it to the beach?
At Lanka Yoga that we are about a five-minute tuk-tuk ride to Habaraduwa beach, and then you're on the endless south coastline. There are beaches for everyone, from beautiful views, to white sand and calm seas and of course, world famous surf for all levels. Cabalana and Dewata, surf beaches for different levels are about 15 minutes away.
The weather
In November usually sunny and mostly dry with more occasional rain. Temperatures are fairly constant, with with average temperatures between around 26-32°C.
What if I have a special diet?
All food served at Lanka Yoga is vegan, so no need to worry if you're plant-based, vegetarian or anything similar. We also offer a gluten-free option for every meal. If you have any other needs at all when it comes to food, please let us know and our kitchen team will adapt the menu for you.
How do I get from the airport to Lanka Yoga?
We can arrange your transport from the airport or from wherever you are in Sri Lanka to Lanka Yoga. If you want to find your own way that is also fine.
What travel documents do I need?
You'll need a passport valid for a least six months after your planned departure date. You'll also need your vaccine documentation if relevant. You'll need to apply for a Sri Lankan visa before you fly as well.