Enjoy breathtaking nature, great people and a fun, accessible yoga practice for this deeply relaxing six nights, seven days retreat. Lanka Yoga is a hideaway set on stunning Koggala Lake. It gives the impression of living on the edge of an endless national park. Here, one can truly enjoy nature with wildlife and biodiversity abound.
our yoga program
The yoga program is based on the principles of Yoga Synergy.
Yoga Synergy is a practice founded on traditional yoga but approached with a modern understanding of human physiology and anatomy. Influenced by the forgotten yoga's of China and Japan, this practice focuses on the how and why of movement and flowing practices which look a lot like Qi Gong. Find more details about the yoga and the teachers in our info pack.
our food
The all-vegan food is prepared by our amazing kitchen team. Much of the spices and veggies come from Lanka Yoga's garden, we serve a delicious chef-designed vegan menu that utilizes as many local and home-grown ingredients as possible. The food is refreshingly varied, with unique dishes served every day.
At Lanka Yoga, we understand the importance of delicious and nutritious food that supports your mind and body, while also being sustainable for the planet. Find more details about the yoga and the teachers in our info pack.
what's included
6-nights accommodation at Lanka Yoga with lake view from each room
Vegan breakfast, dinner, light lunch and unlimited filtered water and tea
Twice daily yoga and meditation including workshops
Interesting and interactive emotional intelligence exercises and practical philosophy discussions
Boat tour on Koggala Lake
*Not included are flights, travel insurance and transport.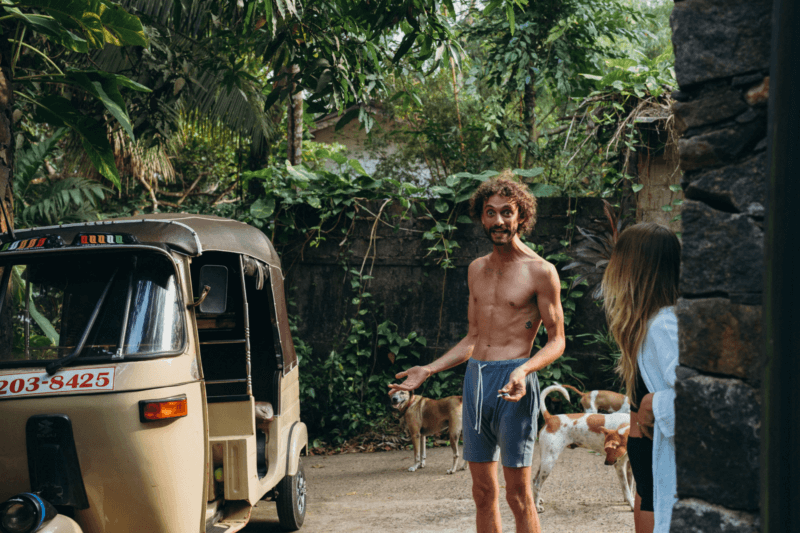 during your free time
During the retreat we have some downtime during the days. You can use this time to relax by the pool and get to know the other guests, or explore Sri Lanka with one of our many optional experiences.
Surf and/or surf lessons at Sri Lanka's best surf points around the corner
Local excursions, day trips and/or Safari tours
Massage treatments in house with our local Ayurvedic specialists
Sri Lankan cooking classes with the amazing Lanka Yoga kitchen team
want to learn more?
to download info pack or make an inquiry, please fill in the form below
all rooms come with lake view
three or four-person shared
Choose between spacious upstairs rooms or a tranquil garden room at Lanka Yoga, both offering breathtaking lake views. Rooms are shared with 2-3 other students and feature large bathrooms with separate toilets, two showers, and two sinks.
The accommodations are designed for cross ventilation, with AC units available. Upstairs rooms have balconies overlooking the lake, while the garden room has access to a private garden with a vegetable garden and jetty. The lush grass lawn is perfect for yoga and relaxation.
twin share
Twin share rooms are available both upstairs in the main villa and downstairs in the guest block, offering peaceful surroundings and stunning views of Koggala Lake. The upstairs rooms are designed for cross ventilation, ensuring a cool and comfortable environment.
The downstairs twin room utilises natural cooling as it is situated underground, benefiting from the insulation provided by the soil and grass above. These spacious rooms feature two single king beds, providing ample space for each occupant, and large bathrooms.
Private
Enjoy low views of Koggala Lake in our private option rooms, which feature a comfortable king bed and essential amenities.
Our sustainable approach means these ground-level rooms have a green roof; providing natural cooling throughout the year with the help of ceiling fans, eliminating the need for air conditioning. Relax on the natural balcony while soaking in the stunning views. These secluded and eco-friendly rooms are perfect for those seeking privacy and tranquility.
How much yoga can I expect on this retreat?
We offer two yoga classes a day that are up to two hours long. These classes are more than just practice, they involve experimentation, workshopping, and some time for deep relaxation. Even with this much yoga, there is still plenty of time for leisure, adventure or reading your favorite book.
Can I come alone?
Of course! You can come to this retreat as a couple, a group, or by yourself. With three room options, you can stay by yourself, or share with one, or three others.
How far is it to the beach?
At Lanka Yoga that we are about a five-minute tuk-tuk ride to Habaraduwa beach, and then you're on the endless south coastline. There are beaches for everyone, from beautiful views, to white sand and calm seas and of course, world famous surf for all levels. Kabalana and Dewata, surf beaches for different levels are about 15 minutes away.
Seasonal information
The weather in South Sri Lanka is tropical, which means there is a dry and wet season throughout the year. From May until October it is wet season, during this time it rains regularly, and the temperature usually drops a little. The rest of the year is sunny and mostly dry with more occasional rain. Temperatures are fairly constant all year round, with with average temperatures of around 25-30°C.
What if I have a special diet?
All food served at Lanka Yoga is vegan, so no need to worry if you're plant based or vegetarian. If you have any other needs at all when it comes to food, please let us know and our kitchen team will adapt the menu for you.
What travel documents do I need?

You'll need a passport valid for at least six months after your planned departure date. Visas are available online or on arrival depending on your passport.