200hr yoga synergy teacher training sri lanka
Join us at our 200-hour Yoga Teacher Training led by Lanka Yoga founder Stefan Camilleri. Get ready for a life-changing 3 week journey to become a skilled, confident, synergy yoga teacher. All backgrounds and experience levels are welcome. At Lanka Yoga, we pride ourselves on our naturally beautiful, inspiring learning environment in our little slice of heaven in Sri Lanka. Master yoga philosophy, anatomy, alignment, and your own world-class teaching style. Your path to becoming the best yoga teacher you can be starts here.
Explore Yoga Synergy, a modern form of yoga that blends physiotherapy and vinyasa. Emphasising human physiology and physiotherapy-based movements, Yoga Synergy is also inspired by Eastern wisdom, Taoist Yoga and Qi Gong. This approach is based on evidence and aims to provide a safe and transformative practice for students of all levels. The movements are intentional, the poses serve a purpose, and the teaching style is clear and concise. Find out more about Yoga Synergy in our information pack.
our YTT is fully yoga alliance certified – for a detailed overview of our training please download our info pack
200hr RYT Yoga Alliance Certificate on completion

Lake-view accomodation on-site at Lanka Yoga (including pool and chill-out areas)

Delicious vegan breakfast, lunch and dinner daily

Instant, free access to 'A New Yoga' online course

All on-site course content, classes, practices, one-on-one support and bonding activities

Access to a private online mentoring group for support, knowledge sharing, and community-building post-training
For more information, click the button below to download our info pack.
all rooms come with lake view
three or four-person shared

Choose between spacious upstairs rooms or cool garden rooms at Lanka Yoga, both offering lake views. Rooms are shared with 2-3 other students and have large bathrooms with separate toilets, two showers, and two sinks.
AC units, fans and mosquito nets provided.
twin share

Twin share rooms are available both upstairs in the main villa and downstairs in the guest block, both offering peaceful surroundings and views of Koggala Lake. These spacious rooms have two single beds, providing lots of space for each occupant, and large bathrooms.
AC units, fans and mosquito nets provided.
private

Enjoy views of Koggala Lake in our private option rooms, which feature a comfortable king bed just for you! Relax on the natural balcony while soaking in the stunning views, enjoying your privacy.
AC units, fans and mosquito nets provided.
2024 Dates
February 4th – 25th (full)
April 28th – May 19th
September 21st – October 12th
want to learn more?
to download info pack or make an inquiry, please fill in the form below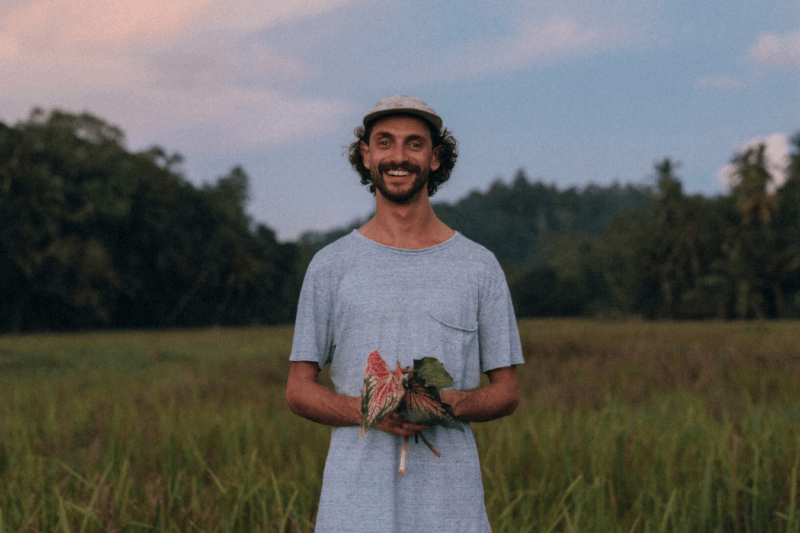 meet stefan
Meet Stefan, your passionate Australian yoga teacher trainer with 10+ years of experience. Since 2014, he's spread his teachings worldwide, journeying from India to New York, Norway, Indonesia, and beyond, certifying over 300 students.
Stefan remains a dedicated student himself, exploring modern and ancient knowledge of yoga across the USA, Australia, Bali and India. With over 2000 hours of training, Stefan is a trust-worthy, deeply knowledgeable yoga teacher who is loved and celebrated world-over.
In 2021, Stefan created his first online yoga course to support his students during the pandemic. His vision? To reshape modern yoga, making its incredible benefits accessible to everyone.
Note: the button above will take you to Stefan's website
Are there any requirements for participating in the YTT?
Recommended 6 months continued (at least 2-3 times each week) yoga practice, a passion for yoga and a desire to study deeply. The program requires you to dedicate significant portions of time to your studies and you will frequently be in the studio for practice and lessons. It's super important that you are preparing yourself ahead of time in order to get the most out of the course.
Is the course certified?
Yes it is! Our school and this course is registered with Yoga Alliance, the world's biggest and most respected yoga organisation. This means that after graduation, you will be able to teach anywhere in the world as an RYT200.
What is there to do when I'm not in class?
Luckily the South Coast is a compact playground of fun activities. There's surf down the road, massage on site, adventures to hidden beaches, snorkelling, and our vegan restaurant just two minutes walk down the road.
What does an average day at the YTT look like?
Every day is different, with the course evolving throughout the three weeks. To keep energy levels high we break things up within the lectures to work with the natural energy rhythms of the day. A typical day looks like:
7.00  –   9.00 am | Morning Asana and Meditation
9.00  – 10.00 am | Breakfast
10.00 –  1.00 pm | Review, workshops and lectures
1.00  –   3.00 pm | Lunch/Free Time
3.00  –   4.00 pm | Something different and exciting
4.00  –   5.00 pm | Lectures and workshops
5.00  –   6.00 pm | Practice teaching work
6.00  –   6.30 pm | Closing circle
6.30 pm onwards | Dinner and free time
What if I have a special diet?
All food served at Lanka Yoga is vegan, so no need to worry if you're plant-based or vegetarian. We also offer a gluten-free option for every meal. If you have any other needs at all when it comes to food, please let us know and our kitchen team will adapt the menu for you.